It's time once again for a new Nvidia graphics card release—words that can either bring excitement or dread to gamers. (Especially to our pocketbooks!)
After a lukewarm response (at best) with the controversial RTX 4070 Ti due to astronomical pricing, Nvidia has now released the $599 GeForce RTX 4070, a highly efficient 1440p monster. This is now the cheapest "Next Generation" graphics card available from Nvidia or AMD. It also promises to pack the same great DLSS 3 technology we've enjoyed in GPUs such as the ferocious GeForce RTX 4090.
We must also look at its predecessors to determine what's changed—and what hasn't. The GeForce RTX 3080 was much-lauded at $699 for its value in 2020, even though pandemic woes kept it much higher on average. Similarly, the AMD Radeon RX 6800 XT at its currently discounted price of under $550 still packs a punch with its 16GB of VRAM and 3080-like performance. Does the RTX 4070 have what it takes to beat them? They're the last-gen GPUs that the RTX 4070 matches up best with performance-wise.
Which GPU should you spend your hard-earned money on? We'll look at the pricing, performance, and important items such as power consumption. New technologies such as DLSS 3 Frame Generation also have an impact on differences here, along with 4K viability due to constraints on the VRAM bandwidth and capacity. Let's find out how the RTX 4070 compares to the RTX 3080 and RX 6800 XT!
Further reading: The best graphics cards for PC gaming
Nvidia RTX 4070 vs RTX 3080 vs AMD Radeon RX 6800 XT: Price and availability
Thiago Trevisan/IDG
With the Nvidia RTX 4070 freshly released, we're happy to report that stock seems abundant at the base $599 MSRP. Retailers seem to have good inventory, and prices don't go much above $679 even for fancier models. With that in mind, it's still important to point out that we've experienced some serious "price creep" this generation. The RTX 4070 costs $100 more than the $499 RTX 3070 did, and we even said most people should opt for a $400 RTX 3060 Ti over the 3070 last generation due to their miniscule performance differences.
Moving on to the RTX 3080, both the 10GB or 12GB models are fairly difficult to find in today's marketplace. It makes sense, as they sit in a perilous position in the Nvidia product stack where they start to overlap with new RTX 40-series releases. They both had troublesome beginnings in the sense that they came during the "Great GPU Shortage," making availability and pricing unrealistic for most gamers.
The AMD Radeon RX 6800 XT seems to fare much better in the modern era, and AMD has yet to release a next-gen GPU cheaper than the $899 Radeon RX 7900 XT. It's still widely available on many retailers, and a basic search brought up several models under $600 on Newegg.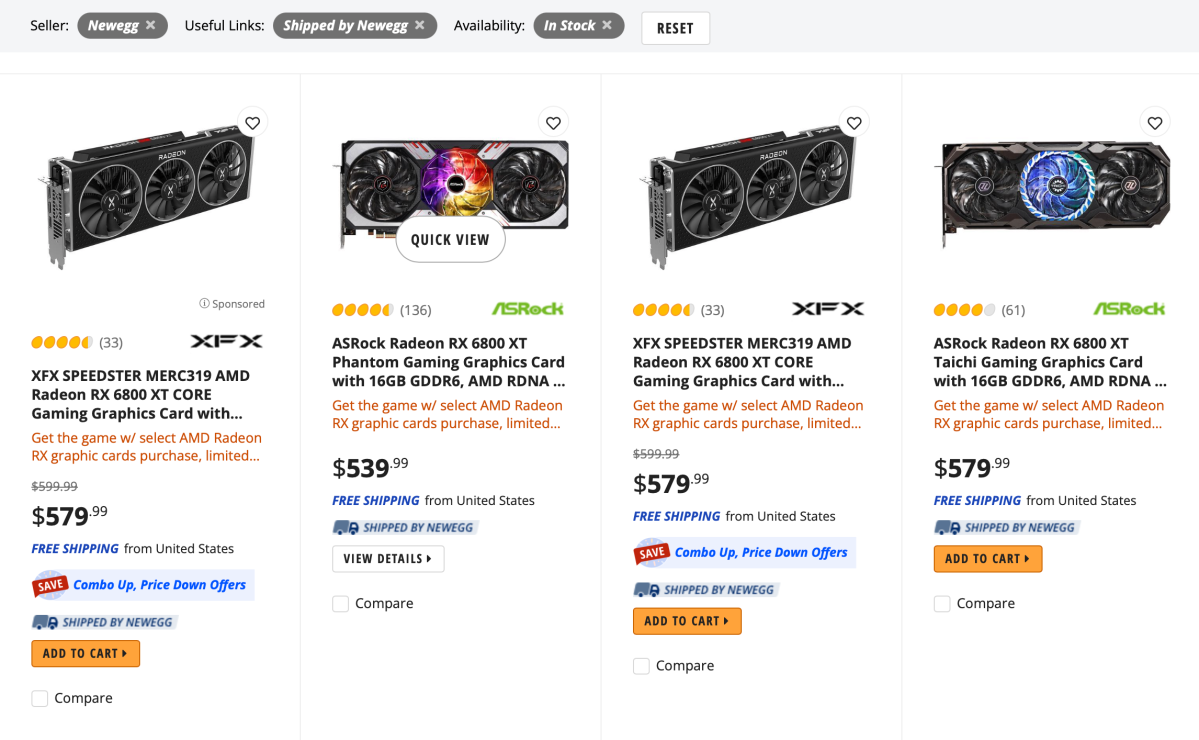 Thiago Trevisan/IDG
So the RTX 4070 is in stock at MSRP—but is that enough? That used to be a simple metric we judged a GPU on during the shortages but times have changed. Clearly, for many gamers, it's still on the expensive side for a 1440p-class graphics card. Judging by the abundance of 4070 stock still on store shelves a few days after launch, it clearly falls short as a good value in the eyes of gamers.
The verdict for the pricing debate is complex here. We can safely eliminate the RTX 3080 from discussion as it's scarcely available now (used graphics cards being an exception). The Radeon RX 6800 XT is certainly a GPU that's garnering gamer attention due to its combination of lower pricing and ample 16GB of memory. Let's take it to the performance section.  
Nvidia RTX 4070 vs RTX 3080 vs AMD Radeon RX 6800 XT: Performance
Performance is the "truth" for GPUs—a stage where none can escape the almighty benchmarks. While we can expect the RTX 4070 to trounce its RTX 3070 predecessor, historically we'd look to the 80- or 90-series GPUs from the previous generation to compare against a new 70-class card. This time, we also have more competition in the form of the Radeon RX 6800 XT from AMD (and to some extent the 6900 XT and 6950 XT).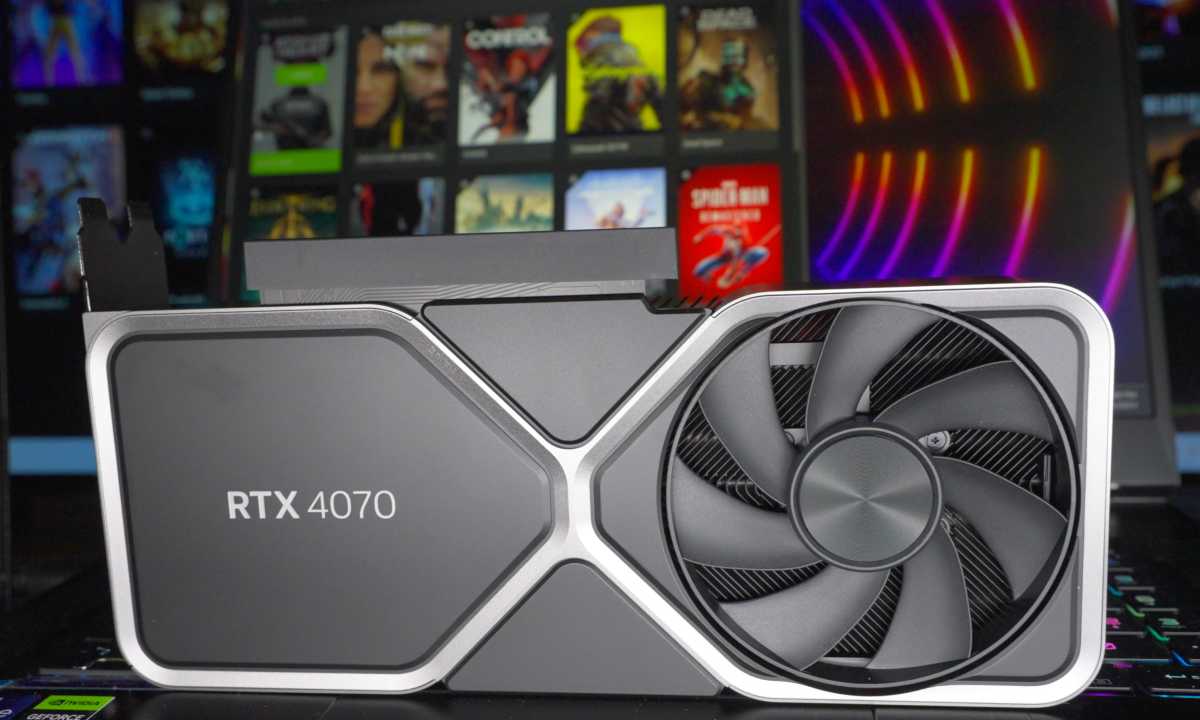 Thiago Trevisan/IDG
Let's first look at the traditional rasterized gaming performance we can expect, so we can compare these GPUs without ray tracing upscaling tech. Keep in mind here that the RTX 4070 carries a TDP of 200 watts, which is well below both competitors here. We're off to a promising start—but that starting price of $599 is always there in the background to remind us it better be good for this price!
There's also another noteworthy issue worth mentioning: The RTX 4070's 4K performance is hampered due to the VRAM memory bandwidth, as we covered in detail in our RTX 4070 review. Sure, one can argue this is a 1440p GPU. But for $599, one can also argue it should be a better 4K GPU than it is.
Remember folks: Games are only getting more VRAM hungry, with an abundance of high textures and ray tracing adding to the mix. Recent game releases have already made 8GB graphics cards such as the RTX 3070 limited at 1440p. Nvidia bumped the RTX 4070's VRAM up to 12GB of faster GDDR6X memory, but it's not just the capacity that's the issue; overall memory bandwidth is too, and that's hurt by Nvidia decision to go with an ultra-narrow 192-bit memory bus.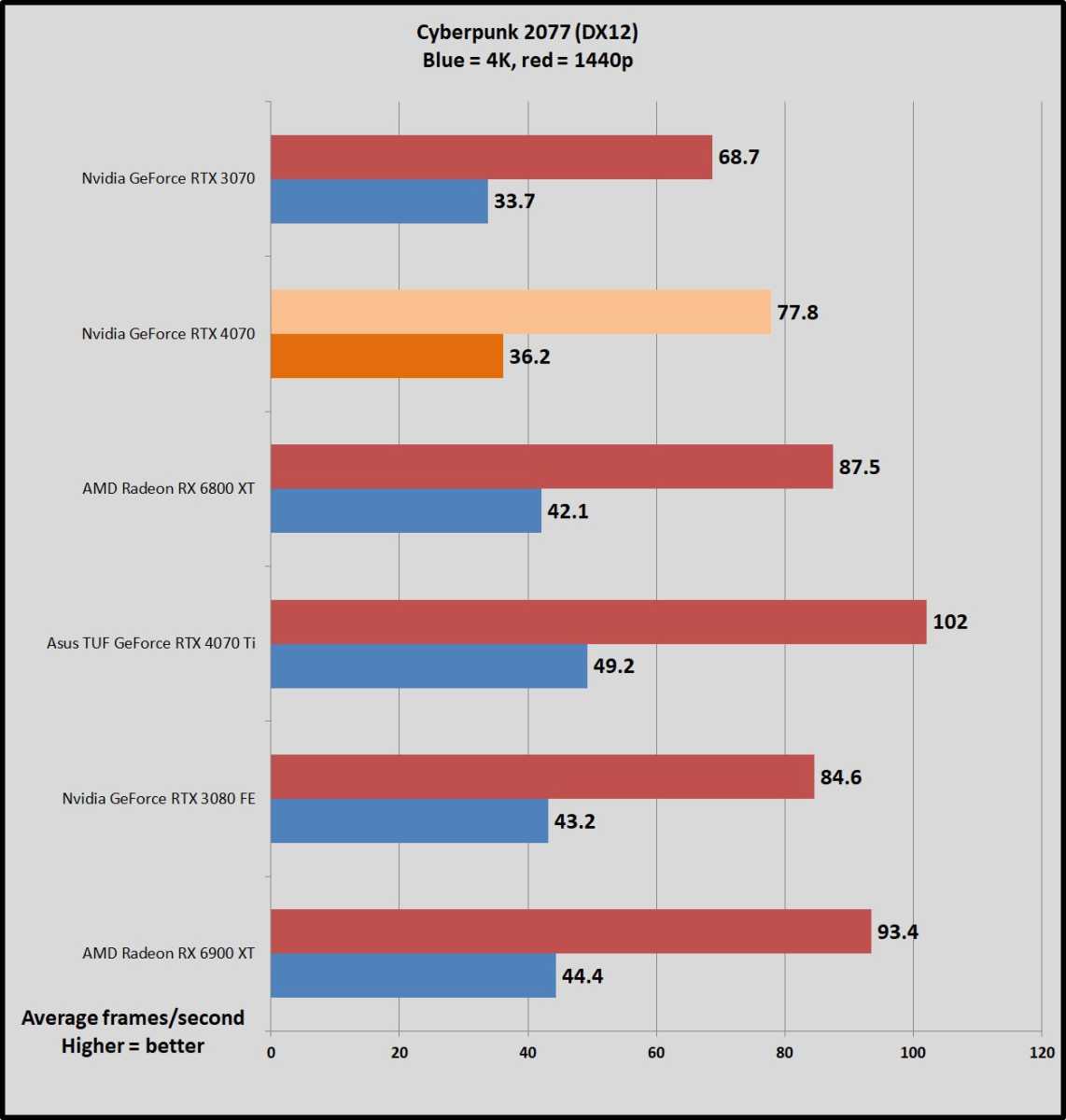 Thiago Trevisan/IDG
With Cyberpunk 2077 (Ray tracing off and DLSS/FSR off), the RTX 4070 immediately falls short of both the RTX 3080 and 6800 XT. This is a very demanding game—but you'll need at least a RTX 4070 Ti to best the older GPUs at 1440p or 4K.
The $599 RTX 4070 does manage to squeak a victory by the $499 RTX 3070, if only by a few FPS. This is not a very impressive performance for $599 in 2023, years after most of the competition released. The GeForce RTX 4070 is efficient with less power draw in comparison to the other GPUs, at least.
Thiago Trevisan/IDG
Call of Duty: Modern Warfare 2 is a game that clearly favors AMD GPUs in terms of performance, but we have some better news here for the RTX 4070. It at least more or less equally matches the RTX 3080 in frame rate. The Radeon RX 6800 XT significantly pulls ahead here.
Thiago Trevisan/IDG
The 4070 ekes out slight victories of its own in Gears Tactics and Horizon Zero Dawn, but note how the 6800 XT is faster than the 4070 at 4K, yet slower at 1440p. AMD built out the Radeon RX 6800 XT's memory subsystem for 4K gaming, while Nvidia didn't do the same with the RTX 4070. You can see how much faster the RTX 3080 is at 4K as well due to its wider memory bus.
Nvidia RTX 4070 vs RTX 3080 vs AMD Radeon RX 6800 XT: Ray tracing and DLSS
Let's return to Cyberpunk 2077, but this time with ray tracing. We'll look at Ultra, not the incredibly strenuous new "Overdrive" technology preview with full path tracing.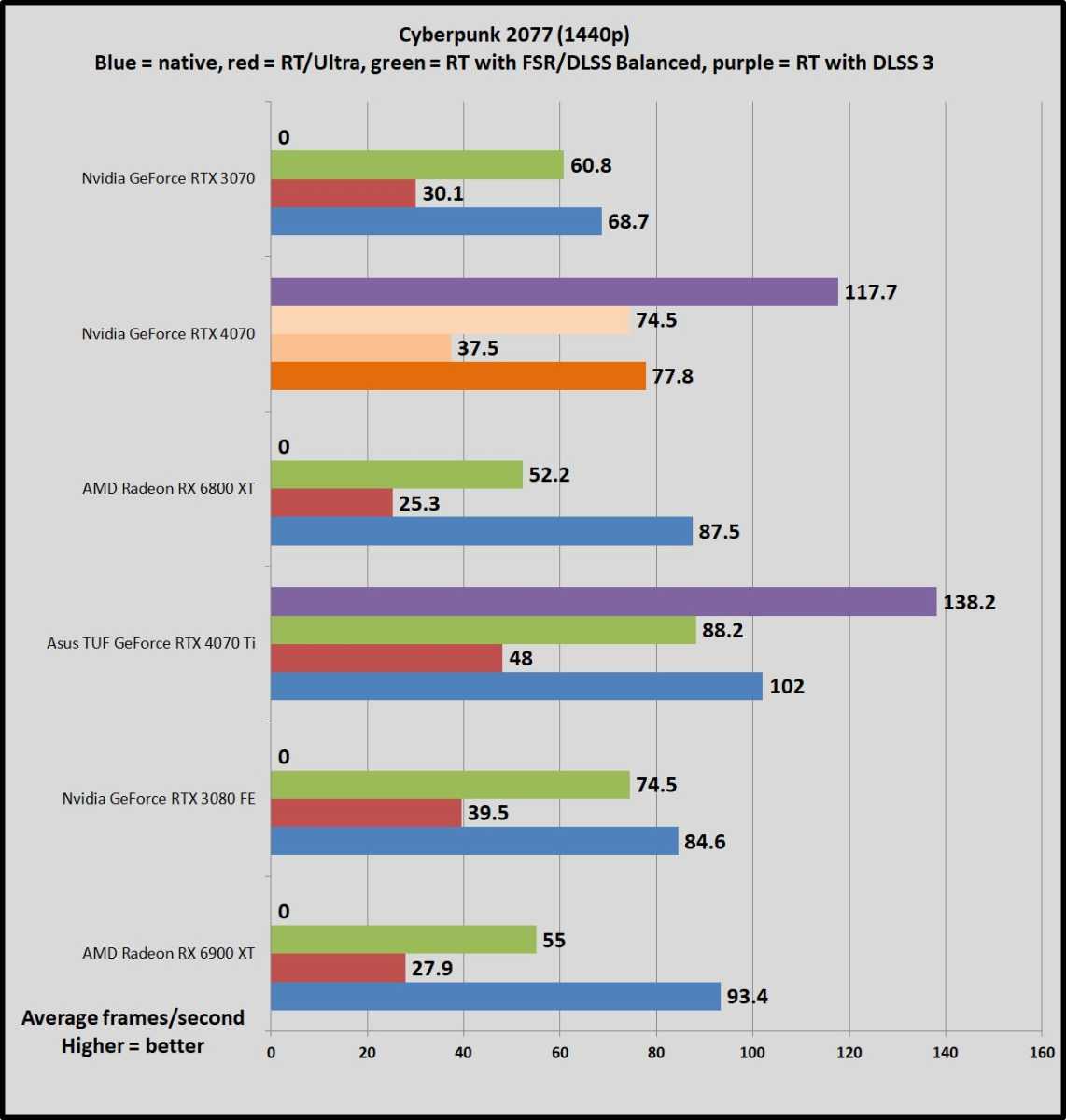 Thiago Trevisan/IDG
Ah, finally! The RTX 4070 is no longer a fish out of water, as we observe it in its natural ray traced habitat. With ray tracing set to ultra, we can see how the AMD 6800 XT starts to fall behind the Nvidia GPUs. This is expected and goes to show how the ray tracing chops in the hardware of Nvidia RTX 40-series has evolved.
While frame rate performance is still lower than we'd like at 37.5 FPS, it's at least a big jump over the 6800 XT at 25.3 FPS. But we start to see a more drastic change as we look at DLSS/FSR upscaling performance on their Balanced setting. Even with ray tracing still active and set to Ultra, the RTX 4070 reaches comfortably playable frames over 74 FPS, while the RX 6800 XT lingers under 53 FPS. The RTX 3080 gets a similar boost to the RTX 4070, but the 4070's more advanced ray tracing and tensor cores give it a clear edge in this scenario.

Thiago Trevisan/IDG
We now reach the "raison d'etre" of Nvidia's master plan: DLSS 3 with frame generation.
With DLSS 3 Frame Generation enabled, the RTX 4070 absolutely runs away from both the RTX 3080 and AMD 6800 XT. We're talking 117 FPS versus 74 FPS from the RTX 4070 running "just" DLSS Balanced, while the rival GPUs struggle to hit 60fps with DLSS/FSR Balanced alone. That's a significant difference, but keep in mind we're using technology only available on RTX 40-series GPUs due to some inherent hardware upgrades intended specifically to make DLSS 3 soar. Nvidia's new tech can add some latency, but requiring the latency-reducing Nvidia Reflex in DLSS 3 largely negates that (and sometimes actually improves responsiveness).  
Thiago Trevisan/IDG
With ray tracing on in Watch Dogs Legion at 1440p, the RTX 4070 once again starts to pull away from the 6800 XT. This is also true when FSR/DLSS are on Balanced. This highlights Nvidia's ray tracing advantage in general, since we see the RTX 3080 run in line with the RTX 4070 as well. It's also worth noting how poorly the RTX 3070 and its paltry 8GB memory capacity performs with ray tracing on in this notoriously memory-heavy game. Ray tracing only exacerbates VRAM demands.
Looking at one last ray tracing title, Hitman 3 also has DLSS 3 available, which the RTX 4070 takes advantage of here fully. While native non-ray traced performance equals the contenders, DLSS 3 is really the magic trick that propels the RTX 4070 ahead when you start turning on ray tracing and upscaling features.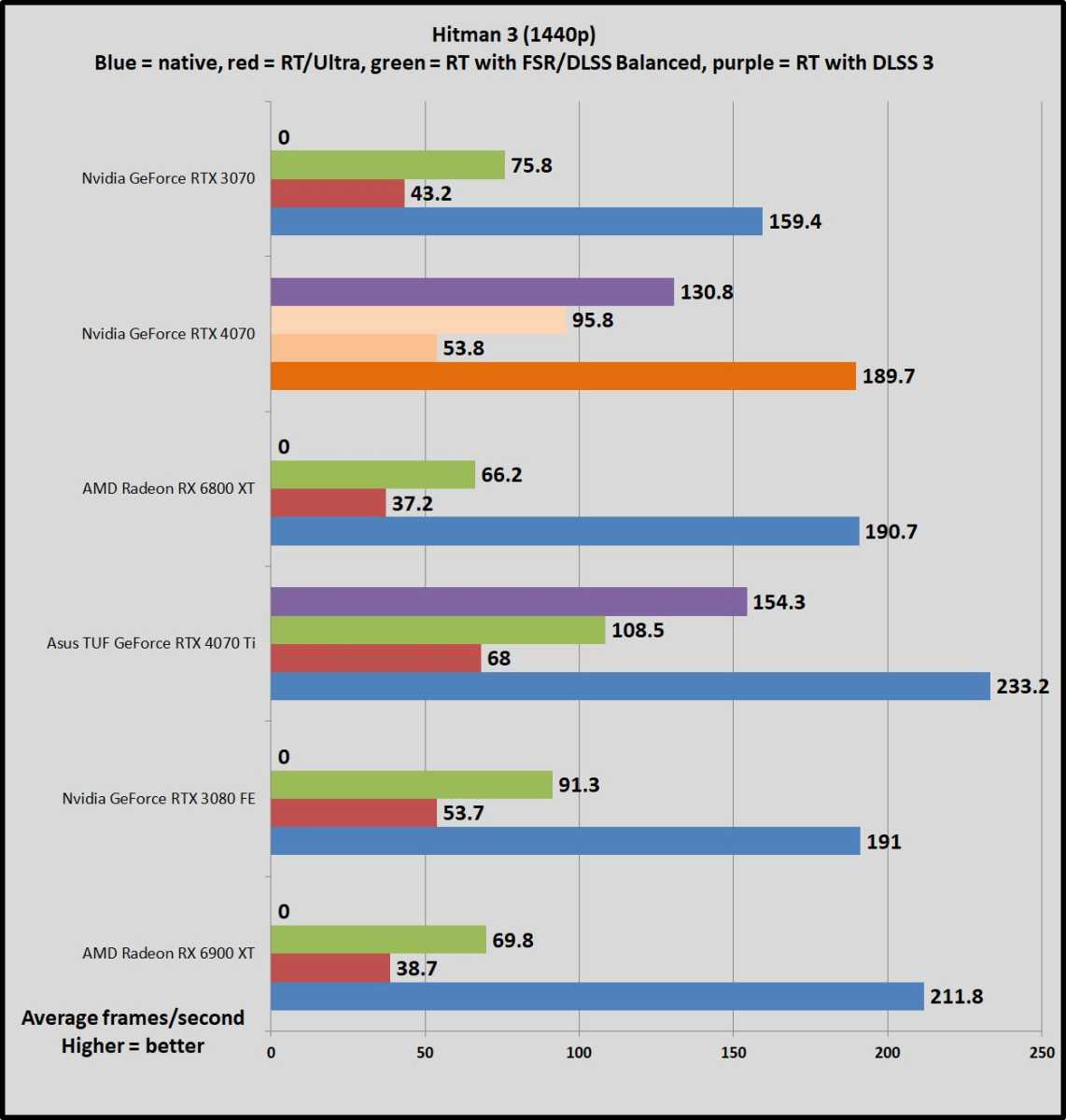 Thiago Trevisan/IDG
As expected, performance metrics between these three GPUs hold some big caveats to be aware of to determine a victor. If you're after games that offer mostly straight up rasterization, such as most esports titles, the AMD Radeon RX 6800 XT clearly is the winner here. Its 16GB of VRAM can also not be ignored, with the bevy of recent games fully exploiting any VRAM they can get ahold of. With both the RTX 3080 and RTX 4070 having significantly less, it's certainly a selling point for the 6800 XT—and its memory bus bandwidth is not limited like the 12GB RTX 4070.
The RTX 4070's DLSS 3 feature is obviously the game changer here. Not every game supports the technology, and it's mostly found in single player style games like Hogwarts Legacy, Microsoft Flight Simulator, Cyberpunk 2077, and so on. If these are the types of games you play, especially with ray tracing enabled, DLSS 3 makes a huge difference.
That's the spot where the RTXD 4070 shines, coupled with its efficiency. If we remove DLSS 3 from the equation, we're not left with much against the RTX 3080. But the Radeon RX 6800 XT is very impressive here for all other, more traditional games people play – especially its huge 16GB memory capacity and now-lower price.
Nvidia RTX 4070 vs RTX 3080 vs AMD Radeon RX 6800 XT: Power draw and other features
AMD always had good arguments for its RDNA GPUs in terms of efficiency. While they're still not power hogs, Nvidia's new GeForce RTX 40-series certainly gave us a new scope of GPU efficiency.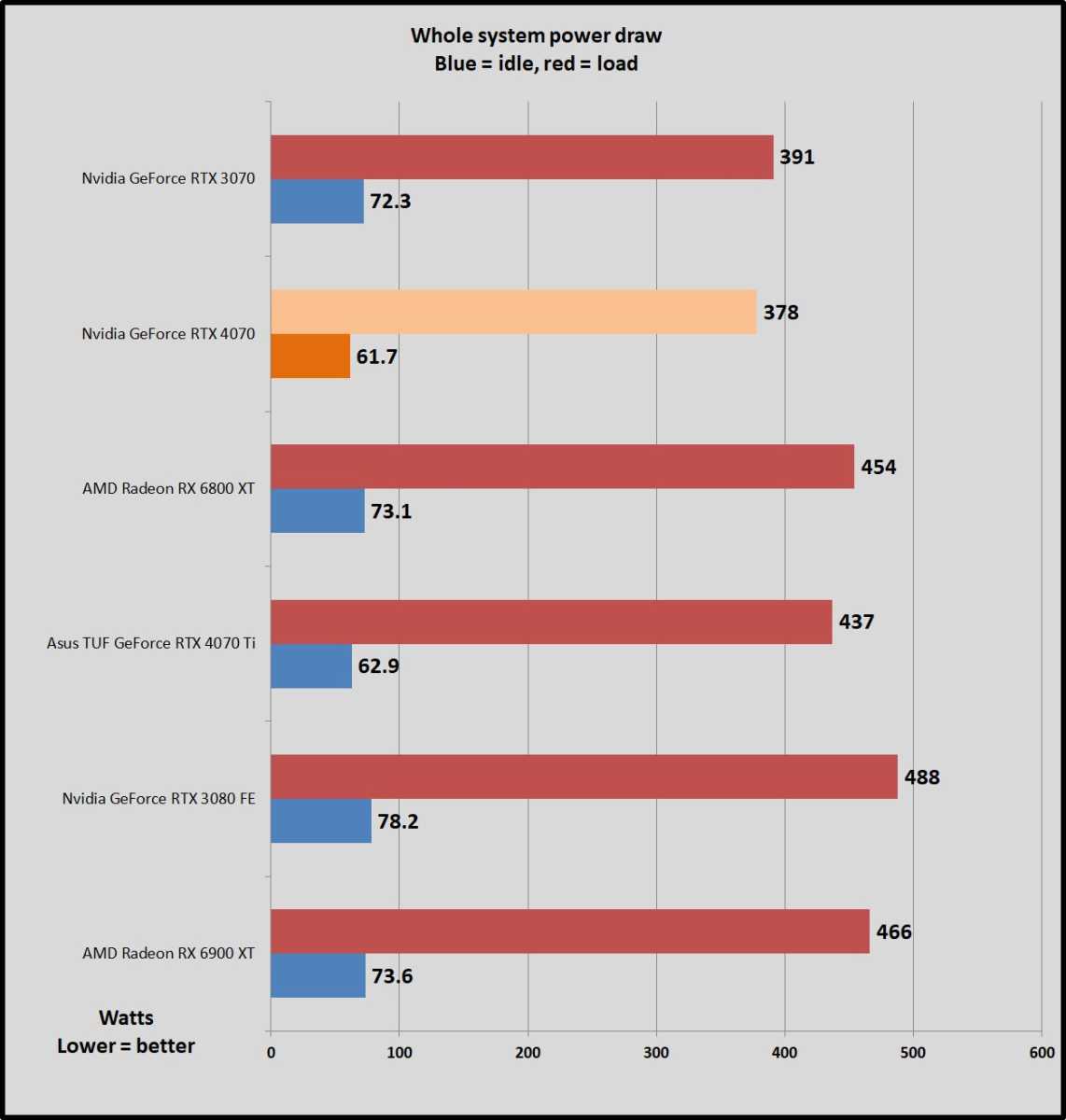 Thiago Trevisan/IDG
With a TDP of 200 watts, the RTX 4070 is clearly well below the 300+ watts of both the RTX 3080 and AMD 6800 XT. Nvidia's new card is pumping out just as many (and sometimes more) frames as those last-gen titans with a fraction of the power use. That's efficiency!
The reduced power draw has real world benefits, too. The RTX 4070 will typically run much cooler and thus quieter than these other GPUs. That's how the RTX 4070 finally offers some reasonably small cooler designs—such Nvidia's own Founders Edition—which can fit in almost any PC build with ease. All RTX 3080 and RX 6800 XT models are massive three-slot beasts.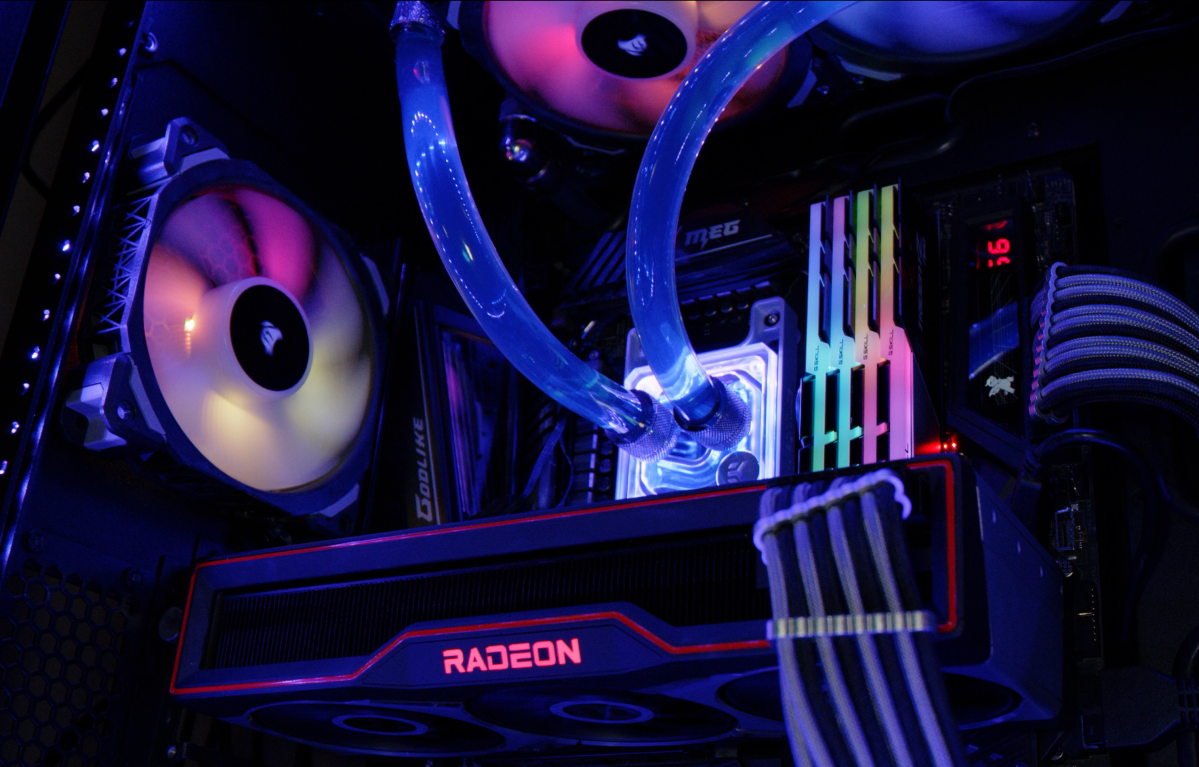 Thiago Trevisan/IDG
Driver support is another area to consider. Traditionally, Nvidia drivers seem to have an edge in terms of overall efficacy and release cadence. For example, some of the more recent AMD Radeon drivers for the RX 6000-series GPUs took months to roll out, even after the newer RX 7000 GPUs had their drivers already.
Nvidia GPUs such as the RTX 4070 also have a few important features aside from DLSS 3 that you should be aware of. Content creators generally favor Nvidia GPUs due to their performance in video editing, 3D heavy applications, and machine learning. While our focus here is mostly on gaming, these are items to be aware of if you plan on using your GPU for these purposes. The Nvidia Broadcast suite is especially enticing for streamers.
RTX Super Video Resolution is also a neat technology that improves the visual quality of offline and streaming—a "nice to have," but not essential—while Nvidia Reflex truly helps in esports responsiveness. AMD also has its suite of features, of course, from Smart Access Memory to FSR and Radeon Super Resolution, and FSR 3 is coming to challenge DLSS 3 sometime in the future. In general, however, software and feature support is a big feather in Nvidia's cap.
Nvidia RTX 4070 vs RTX 3080 vs AMD Radeon RX 6800 XT: Verdict
The Nvidia RTX 4070 is the latest GPU to enter our battlegrounds. How did it fare? Make no mistake—it's going up against seasoned and still-relevant GPUs such as the RTX 3080 and AMD's 6800 XT. The RTX 4070's $599 MSRP still feels high for a 1440p GPU, and so far it seems it isn't flying off the shelves like previous-gen graphics card launches have.
Let's tackle the Nvidia GPUs first. If you currently have an RTX 3080, is there much reason to upgrade? If you mainly play esports titles, or games with minimal ray tracing, not really. These games also typically may not offer DLSS 3, so you're more than fine with the DLSS 2 support that many games do offer for the RTX 3080.
Here's the kicker: If you happen to mostly play the type of games that do have DLSS 3 support, then you'll certainly get a big frame rate improvement with Frame Generation on the RTX 4070. You'll also be using considerably less power. Still, without DLSS 3 the RTX 4070 isn't very impressive versus the RTX 3080. You could even call it disappointing, really.
How about the RTX 4070 versus the 16GB Radeon RX 6800 XT? AMD's offering is cheaper and you're getting more VRAM. You're also getting typically superior performance in most non-ray traced games, such as most esports titles, especially at 4K resolution. That said, the Radeon RX 6800 XT also draws a lot more power (if that matters to you). Ray tracing performance will also suffer in games that support it.
The answer here likely depends on whether you consider DLSS 3 Frame Generation vital, or if you demand access to Nvidia's suite of other software features. Still, it's difficult to ignore the Radeon RX 6800 XT's raw brute force performance in many, many non-ray traced games.
While the GeForce RTX 4070 offers amazing efficiency, and it's technically the cheapest GPU with DLSS 3 you can get now, we certainly think the AMD Radeon RX 6800 XT and its 16GB of memory can appeal to many gamers, too. Pick you poison!